We're making this amazing seafood boil. The best crab boil recipe is so quick to prepare and tastes good. If you would like to see the whole recipe keep on reading as we are going to boil crab today. Crabs are very healthy seafood packed with protein, which is important for building and maintaining muscle.
Best Crab Boil Recipe
Crab also contains high levels of omega-3 fatty acids, vitamin B12, and selenium. These nutrients play vital roles in improving general health while help prevents a variety of chronic conditions. Now that you know the benefits of eating crabs Let's Jump Right Into the recipe, but before we start let us know the ingredients needed for crab preparation first of all.
Read also: Coconut Custard Pie Recipe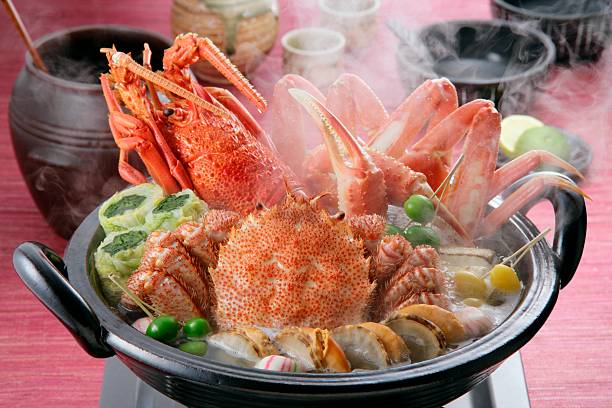 Ingredients for making the best Crab Boil Recipe
2 Dungeness crabs
1 tablespoon of old bay
1/2 tablespoon of lemon pepper
1 teaspoon of paprika
1 teaspoon of garlic powder
2 sticks of unsalted butter
1 garlic clove
corn
potatoes
sausage
Read also: Sweet Potato Pancakes Recipe
How to Prepare Shrimp and Crab Boil Recipe
Okay, guys, let's begin with today's recipe, we will be using some fresh live crab. There's nothing like using fresh live crab. Now, I am going to clean them. Once I'm done, cleaning them
let's get to cooking. I am going to bring a large pot of water to a boil. Well, I'm going to add a little bit of salt in there. Then we want to let it come to a boil. Once that is boiling, we're going to add our crab right in there, will want to let that cook, for now, while I get started with the potatoes, I'm using potatoes, corn sausage.
You can add whatever else you like, like eggs and whatever else you do like in your Seafood. Okay? So we're going to add the corn in the corner I'm using. They're so sweet. I just Love Sweet corns In my seafood, boil so extremely sweet.
Now, we're going to add in our sausage. We're going to cover this and let it boil. And don't forget to add a little bit of salt in there as well, because you do want the corn in the potatoes to have to be salted. So we're going to cover this and let it boil until my corns and potatoes are nice and tender.
Why we let these cook, We're going to start with the seasoning for the seasoning. I'm using 1 tbsp of Old Bay, Seasoning, 1/2 tbsp of lemon pepper, and also we will be adding a teaspoon of paprika, and a teaspoon of garlic powder, mix that together and boom you have your season, and keep in mind the old day has Salt, you don't really need salt until after.
So now you all can see, my crab is nice and cooked, make sure the crab meat is cooked to stop the cooking process. I am going to place them into cold ice cold water so it doesn't continue to cook it while I get ready to make my Butter sauce and of course, by now, my potatoes are nice, cooking tender. I removed them from the stove and set them aside.
Now, for the butter sauce, I am going to add 1 and 1/2 sticks of unsalted butter. Then once that is nice and melted, also, I added one garlic clove in there. I just smash it. You can dice Some I just don't like chewing on the garlic. So I just smash it. I like the flavor. Now we're going to add the seasoning in, want to cook the seasoning. Make sure you can get season for about 3 to 5 minutes. Then we can add our crab in.
Now, I have decided to add another stick of butter. Now I'm going to add one tablespoon of hot sauce to make this a little spicy not too much if you want, of course, you can add more hot sauce, but yeah one tablespoon of hot sauce will do. Then we're going to add our crab right in. Okay, so now I'm basically pouring the butter sauce all over the crab meat.
You're swimming in there because we need this to be delicious and buttery. And look at that, y'all. It looks good. It looks good. Well, we're going to let it simmer and make sure all that butter sauce gets in there. And then we're going to remove it, set it aside so we can add in our potatoes and corn. If you have a bigger pot, You can addicts everything together but I don't. So I'm going to remove the crab and add the clips.
And do not overcook your potatoes, that's one of my pet peeves when you make seafood boil and the potatoes are like so Mushi, I hate that. So make sure you don't overcook them and basically, all I am going to mix the butter sauce with the corn, the potatoes, the sausage, I didn't add the egg and because somebody doesn't eat so I'm not going to put it in just yet and basically, I'm going to remove the potatoes from the stove, just pour it all over the crab, with all that, Saucy butter seasoning flavor on there. You can't forget your lemon, of course, you cannot forget about lemon.
Just squeeze some lemon as you eating this. Look how easy it is to make seafood, boil at home, guys. Why are you wasting your coins? Why are you wasting your money at Juicy crab? Why can't you make this at home in nothing? Like eating some fresh crabmeat? Y'all. I have to tell you, guys. It's so good. And sweet. Oh, y'all have to get your hands on some fresh crabs.
Conclusion
Have you tasted a delicious crab before? if you haven't what are you waiting for?. Crabs are very healthy packed with a lot of nutrients for your body. They are simple to make and they look so sweet and attractive when prepared. If you want to make delicious and outstanding crabs follow this article step by step and you will get that delicious tasty crab you want.