Would you like to try the best recipe for manicotti? Manicotti is a delicious meal mostly serve with a crispy salad and garlic bread. A manicotti is an American form of pasta, they are very large paster tubes, usually ridged, that are intended to be stuffed and baked.
Manicotti filling is generally ricotta cheese mixed with cooked chopped spinach and possibly ground meat as well.
Manicotti can also be extruded in tube form or rolled from sheets of dough. There is also a traditional version of the manicotti recipe which uses a crepe instead of pasta tubes to contain the filling, which is similarly covered in sauce and then baked.
If you are looking for a perfect recipe to prepare manicotti you are in the right place, we will not only teach you the recipe for manicotti but we will also teach you some important things about manicotti so read on and follow it one step at a time.
Manicotti shells
These are cannelloni shells rather than manicotti shells. Manicotti is filled with your favorite filling, fold over sides, and bake with sauce and cheese. It is made up of some ingredients such as Purpose floor, water, eggs, and salt mixed together and cooked until the top forms film.
Cannelloni tubes are smooth, round flat pasta or crepes rolled around filling a touch. They turn out absolutely perfect though and I will highly recommend them as these are so much easier to use than store-bought manicotti shells which always tear out on me during the boiling process. Not only that these are tasty and foolproof.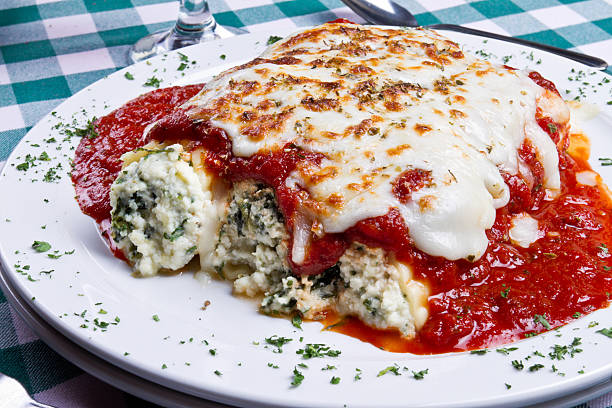 Read also: Vegetable Soup Recipe Easy
Ingredients for Manicotti Shell
2 cups all-purpose flour
2 cups of water
6 eggs
1/4 teaspoon of salt to taste
Required Time for Preparing and Cooking Manicotti Shell
Preparation time: 10 minutes
Cooking time: 10 minutes
Serving: 4
Read also: Egg Foo Young Recipe
Recipes for Manicotti Shell
Mix together flour, water, eggs, and salt inside a bowl to make a thin, smooth batter.
Pour about 1/4 cup batter onto the lightly greased griddle.
Cook until top forms film.
What is the Difference between Manicotti and Cannelloni?
Manicotti is the Italian-American version of cannelloni. Both are paste tubes, but the difference between them is fairly minimal: Cannelloni tubes are smooth, round flat pasta or crepes rolled around filling while manicotti tubes are ridged, larger, and slightly thicker.
Read also: Best 5 Cookie Recipes You Should Try
What is Manicotti Filling made up of?
Manicotti filling is made up of ricotta, mozzarella, parmesan cheese, beef, Italian sausage, sour cream, and eggs.
Manicotti filling with mozzarella: Mozzarella is creamy, buttery, and melts beautifully. Its milky richness cut through the tangy tomato sauce.
Manicotti filling with parmesan cheese:  Parmesan cheese infuses the manicotti filling with its salty, nutty flavor. As in with mozzarella, freshly grated parmesan cheese tastes far superior and melts much better.
Manicotti filling with ricotta: Ricotta is the main ingredient of authentic manicotti filling. Some people don't like ricotta because the ricotta we buy in our American store tends to taste grainy and doesn't taste like the ricotta purchase at an Italian market. But ricotta mixed with sour cream is culinary changing, It is smooth and lusciously creamy without grainy.
Manicotti filling with beef and sausage: The best manicotti doesn't get better than meat, cheese, pasta, and marinara. We are going to use half ground beef and half Italian sausage. This combination will result in a superior texture and flavor. The meats are cooked with garlic, onions, pepper, and salt for a tantalizing addition to our filling.
Manicotti filling with eggs: The eggs act as a binding agent and, along with the sour cream, give our ricotta an ideal creamy texture. Eggs are essential in this recipe.
Manicotti filling with seasoning: The filling mixture is seasoned with nutmeg, basil, parsley, pepper, and salt to bring out the flavor because every element should be seasoned independently so it is stand-alone flavorful. Add the ricotta, sour cream, mozzarella, parmesan, beef, sausage, eggs, and herbs together and we have creamy, herby, meaty, cheesy deliciousness.
Time preparation: 30 minutes
Cook time: 45 minutes
Serving: 4
Ingredients needed for Manicotti
8 ounces shredded mozzarella
1 pint-skim ricotta cheese
3/4 cup grated parmesan cheese
2 eggs
ground black pepper
salt to taste
1 jar spaghetti sauce
51/2 ounces manicotti pasta
Best Recipe for Manicotti
Place a pot on normal heat, cook manicotti in boiling water until done. Drain, and rinse with cold water and keep aside.
Preheat oven to 350 degrees F.
Place a large bowl, combine ricotta, mozzarella, and 1/2 cup parmesan, eggs, salt to taste, parsley, and pepper, and mix very well.
Pour 1/2 cup of water sauce into an 11* 17-inch baking dish. Fill each manicotti shell with 3 tablespoons cheese mixture, and arrange over sauce. Pour the remaining sauce over top, and sprinkle with remaining parmesan cheese.
Bake in the oven for 45 minutes or until bubbly.
Remove and serve
Nutritional content
Calories: 676
Protein: 46g
Carbohydrates: 53.2g
Fat: 30.9g
Cholesterol: 188.8mg
Sodium: 1254.7mg
What goes with Manicotti?
Manicotti can be made a complete meal with a big green salad, caesar, and some garlic bread. Manicotti can also be served with:
Tomato cucumber salad
Winter fruit salad with honey-lime poppy seed vinaigrette.
Fruit salad with honey-lime vinaigrette
Berry salad with honey mascarpone
Wedge salad with blue cheese ranch
Roasted asparagus with balsamic brown butter
Buttery breadsticks
Soft and fluffy dinner rolls
Roasted parmesan broccoli
Sauteed Brussels sprouts with garlic, lemon, butter
How long does Cooked Manicotti last in the Refrigerator?
Baked manicotti should be tightly covered with foil or transferred to an airtight container. When it properly stores it can last for approximately 5 days.
How to Preheat Manicotti
Microwave: Add each serving to a microwave plate and cover with a paper towel so the sauce doesn't splatter. Microwave 11/2- 2 minutes or until heated well.
Full casserole: Cover your baking dish tightly with foil and bake at 350 degrees F for approximately 20 minutes or until heated well.
Conclusion
Recipes for manicotti is a portion of 5-star Italian comfort food. It's cheesy, creamy, saucy, meaty, and deeply satisfying. I have stuffed my baked manicotti with beef, Italian sausage, mozzarella, ricotta.
Reading to this point, we believe you must have gotten the best recipes for manicotti, how to prepare, its nutritional content, and other vital information about manicotti. However, to stay updated, getting other unique recipes such as these, ensure to subscribe to our newsletter below.