When we talk about the egg foo young recipe, egg foo young is a dish prepared with beaten eggs and most often minced ham. It may be made with various vegetables such as bean sprouts, bamboo shoots, spring onions, sliced cabbage, water chestnuts, and mushrooms, mixed with meats such as crab meat, shrimps, minced chicken, pork, or any other meat.
What is Egg Foo Young?
Egg foo young is a Chinese egg omelet dish made with vegetables like peas, bell peppers, and carrots with an easy gravy topping. Egg foo young is a perfect, easy recipe to round out your favorite Chinese takeout meal made at home.
You don't need a lot of ingredients to take a classic Omelette from a breakfast dish to this Chinese restaurant favorite. Egg foo young appears on Chinese menus in some countries as "Omelette" sometimes they might be smaller and at times as large as dinner plates.
Egg foo young can be made with almost any vegetables and protein because it is a recipe that evolved as a way to use up leftovers. You can actually use any vegetable available in your kitchen to make egg foo young.
Picture of Egg Foo Young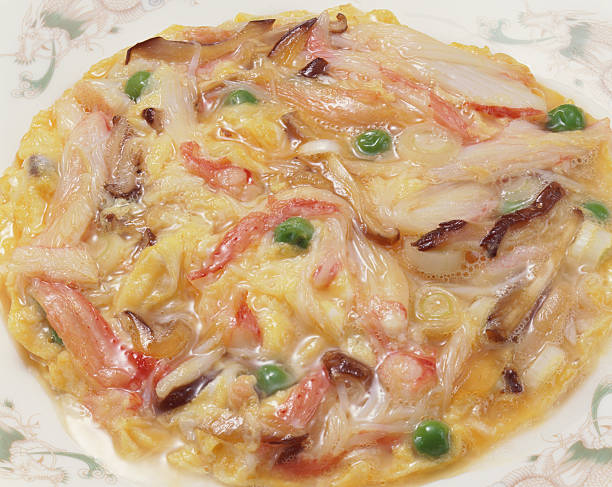 Read also: King Ranch Chicken Casserole Quarantine Cooking Recipes
Egg Foo Young Recipe
This simple recipe shows you how to make egg foo young from your own kitchen with just a handful of ingredients and a skillet. Egg foo young is quite simple and easy to make and it doesn't take much of your time.
Even if you don't know how to go about making it, this recipe is also for you, just follow the recipe a step at a time and I am sure you will make delicious egg foo young.
This recipe is the best egg foo young I have ever had. Hope you enjoy it too. To serve, place egg patty over steamed rice and put the sauce on top.
In the Netherlands, which has a local variation on the Chinese Indonesian cuisine, it is known as foe yong hai, which is usually served with a sweet tomato sauce.
Read also: Best 5 Cookie Recipes You Should Try
Is Egg Foo Young Healthy?
When egg foo young is made at home it is one of the healthiest Chinese takeout meals while restaurants tend to cook the Omelettes with a lot of oil, if made at home the oil can be reduced and it will be low fat, low carb, and high in protein dinner or breakfast option.
You can as well load it up with extra nutrition by topping it with a handful of extra vegetables like bean sprouts. Because egg foo young is made with eggs, it's rich in protein, containing 106 calories and 10 grams of protein in a single patty (86g). Egg foo young also contains vegetables which increase the fiber and nutrients content of the dish.
Read also: Spicy Indian Rice Recipe
Vegetables used in Egg Foo Young
Peas
carrots
bell pepper
bean sprouts
bamboo shoots
water chestnuts
mushrooms
green onion
You can as well mix in any leftover meats you have. Just make sure that the meat is cooked ahead of time. But at times you can add the meat raw when mixing with other ingredients.
Meats used in egg foo young
beef
lobster
chicken
Chinese sausage
roast pork
shrimp
ham
How to Prepare Meat for Egg Foo Young
If you are using pork or other mince/ground meat option, mix together soy sauce, sugar, and oyster sauce to add flavor. Then drop in dollops of the raw pork or meat straight into the egg mixture. It cooks through in the time it takes for the omelet to cook, trust me.
If you are using prawns or shrimps, just drop the raw shrimp or prawn straight into the batter. But if your shrimps are large, chop them into small pieces.
Let's talk about gravy for egg foo young, some people don't love gravy when it comes to egg foo young, but personally, I love it. Have a classic and beyond easy gravy to add to the top of your egg foo young if you love adding gravy to your egg foo young.
Egg Foo Young Gravy
1 tablespoon cornstarch
2 tablespoons light soy sauce
1 cup of chicken stock
1 tablespoon of dry sherry
How to make Egg Foo Young Gravy
Add all the ingredients to a small sauce pan and whisk well to incorporate before the liquid heats up. Cook and whisk until thickened.
How long does it take to Prepare Egg Foo Young Gravy?
Preparation time: 5 minutes
Cook time: 10 minutes
Total time: 15 minutes
Servings: 6
Ingredients Required
1/2 yellow onion (chopped)
3 tablespoons of sesame oil
1 tablespoon light soy sauce
8 large eggs
1/2 cup carrots chunks (chopped and steamed)
1/2 green bell pepper (chopped)
1/4 cup bean sprouts (cut into half)
1 cup of green peas
1 garlic clove (finely chopped)
Salt and white pepper
Garnish (optional)
sliced green onion, sesame seeds
Method of Preparation
Place pork or meat, add ingredients to taste. Use a fork to mix through.
Add the eggs, mushrooms, bell pepper, salt, soy sauce, onion, and bean sprouts together in a bowl and whisk very well to combine.  If using pork, crumble the raw pork in with fingers, mix through.
In a large skillet heat up 1 teaspoon of sesame oil at a time for each pancake you cook on medium heat. Add a bit of garlic and quickly saute for 10 seconds and push into the center of the skillet
Use spatular to push edges in to form a roundish shape.
Add about 1/3 cup of mixture per pancake and cook for 3-4 minutes on the first side and 1-2 minutes on the other side. The raw meat will cook through in this time. Repeat this with the remaining egg to make others, you can also use 2 pans if you can to make it faster.
Your delicious egg foo young is ready from here. Serve with gravy if you choose, sprinkle with sesame seeds and green onions if you are using.
Serve with a side of rice and steamed vegetables of choice. Add more sauce if you want enough to pour over the rice and veggies.
Nutritional Content
Amount per serving: calories: 170g
Calories: 170g
Carbohydrates: 2g
Protein: 9g
Fat: 13g
Saturated fat: 3g
Cholesterol: 248mg
Sodium: 263mg
Potassium: 148mg
Sugar: 1g
Vitamin A: 450g
Vitamin C: 13.1g
Calcium: 39g
Iron: 1.4g
Conclusion
Egg foo young is a Chinese omelet egg mixed with vegetables and usually, some type of protein (shrimps/prawns or pork are common) then smothered in a Chinese stir fry sauce. It is often made with vegetables like carrots, bell peppers, and peas with an easy gravy topping.
Egg foo young is packed with many nutrients. Because it is made with eggs, it's rich in protein, containing 106 calories and 10 grams of protein in a single patty (86g).
Egg foo young also contains vegetables like onions, peas, and carrots, which increase the fiber and nutrient content of the dish. I hope this recipe was helpful to you…Enjoy your delicious egg foo young.