Since the pandemic and I think I can say I am pretty good at how to set up a picnic, picnics have become one of my favorite outdoor activities. Here is my version of a perfect picnic.
An afternoon tea-inspired spread featuring finger sandwiches, chocolate-dipped strawberries, a charcuterie board, and some wine glasses. Picnics are really fun, with a lot of wonderful things around.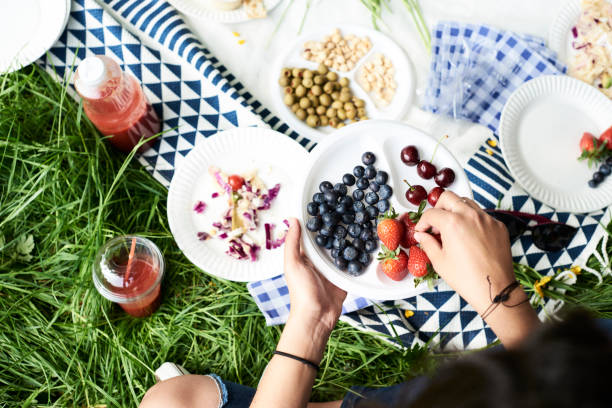 Appetizers needed to set up a Picnic
Let's first get started with the picnic food that needs a little preparation.
I made three kinds of finger sandwiches and some scones they look as if they take a lot of effort, but I can say, it's a pretty simple sandwich.
Read also: Chicken a la King Recipe
How I made the Sandwich
Number one, I found a picture of the sandwich on Pinterest and I knew I had to try to recreate it. There are only four ingredients to this, white bread and gently slice and English cucumbers. I use a vegetable peeler. Together some cream cheese and chives spread the cream cheese mixture on the bread.
And I start at a corner. Start placing the Cucumber slices one by one across myself the cross, along with the extra cucumber, and then cut into four.
Read also: Recipe for Fruit Dip
Egg Salad Sandwich
 There's next, we have my favorite, the egg salad sandwich. I'm going to start by adding 6 boiled eggs. I chopped up into a large bowl along with some mayo. I'm using a Japanese mayo here, but you can use any kind of in the fridge. I am also going to have some Dijon mustard. The ratio here is for part Mayo to one part mustard. And you can just adjust this to your liking, I added some salt, pepper, and then you mix, got your sliced, white bread, and apply a generous amount of the egg salad on the bread.
Another slice of bread on top of the Cross because we're five years old, apparently. This time it was no way to finish it off and make it look extra fancy. We're going to take a piece of chard for every sandwich and just tie it around for garnish.
Smoked Salmon Sandwich
Last sandwich. I'm going to call these smoked salmon bites, taking a slice of bread. I'm going to use this cookie cutter to cut out a single start. I promise I use the other 50% of this bread later on in the snack. It did not go to waste. I use the rest of the cream cheese.
Just made some from earlier for the sandwich and with the smoked salmon. I start creating a rose, start with the center and work your way out making it look like petals. I'm pretty sure that traditional afternoon tea stones are typically served with jam and cream.
Unfortunately, I did not have either of those at home, so I opted to make these lemon Stones. Instead.
Read also: Simple Steps to Making Hot Water Cornbread Recipe
How to set up a Picnic
Finally, it is time to set up the picnic on this three-tier scanned. I start with the sandwiches on the bottom, tier stones in the middle, and dessert on top.
Here, I made some chocolate and strawberries the day before, and I also have a box of store-bought macarons. I'm just picking out some of the prettier colors.
Now there are four people so I also set up a charcuterie board. I always got a dip. Sometimes it's Thomas this time. It's busy caramelize Onion Jam that I've been obsessed with.
Where I sliced a French baguette and place it around the gym, Corn cheese. We have three, This one here is a mushroom Brie that I tried for the first time from Cheerios.
To be honest, I didn't enjoy the flavor of this one much, but I think regular brie is always a safe choice. I got this Boursin cheese with garlic and herbs and also some pre-sliced cheddar cheese that I forgot to report.
Very extra and I also have this box of assorted crackers. That I place a randomly on the board. Honestly, there is no one way to do it. Just follow your creative instincts for the meat on the board.
I just got some prosciutto you can Ham or salami whatever you prefer placing the prosciutto. I don't like the folder or roll it up but instead, I place it loosely so it doesn't look too squished on the board.
I placed some fresh fruit, I chose green grapes and I also am going to put some dried fruit on here as well. Here are some dried mandarins. You also can't have a picnic without something to drink for this picnic. I purchased some sweet, grapefruit soda and a bottle of Rose.
You can have them separately but mixing the two together is so good. And you haven't tried that before we have our picnic, I got to share this with my family and we had a really Great day eating and enjoying the weather. This is a nice big juicy outside of the house and also, get some fresh air.
Conclusion
A picnic is just something you should be preparing for yourself, friends, and family. It's actually fun to be outside receiving fresh air and having fun with a lot of colorful things around, drinks, fruits, and the rest. Why not have a day full of enjoyment and fun with your family.