Are you a lover of Swedish pancakes? Here is an easy Swedish pancakes recipe you should try. Swedish pancakes are thin, eggy, golden wonders filled with jam or fresh berries toppings with a dollop of whipped cream and just sweet enough to serve as a bed for your favorite toppings. Swedish pancakes are made from a thin, egg-rich batter that's cooked in a skillet to produce thin cakes that are rolled up or folded.
The Swedish pancake is made with milk, all-purpose flour, eggs, granulated sugar, and kosher salt. Swedish pancakes are easy to make with less time and it tastes very great, even though frying them can take a little longer than your regular pancakes. But trust me, it is so worth it.
If you are tired of your regular pancakes why not try Swedish pancakes and you won't go back to regular pancakes again. Swedish pancakes are lighter and fluffier by using less flour, butter, and more eggs while your regular pancakes are more dense and chewy due to more flour, fewer eggs, and no butter.
Also, Swedish pancakes are also served traditionally with strawberry or lingonberry, and whipped cream, anything goes with Swedish pancakes. Optional for fresh fruit or your usual maple syrup, if you prefer. Even yogurt is nice with Swedish pancakes.
How to make Easy Swedish Pancakes Recipe
Here are the easy steps for making Swedish pancakes.
Batter: Beat eggs and add about 1/2 cup of milk into a bowl or in the blender. Add some flour with the salt and sugar and whisk. Add melted butter and more milk. Add the rest of the flour and milk and whisk very well to corporate.
Cook: Wipe griddle with some butter or oil when it is hot. Pour a thin layer of batter into the pan and move the pan until the batter is spread evenly. When edges are bubbled and browned, it's ready to flip.
Serving: Serve warm and add any toppings of your choice.
A few helpful tips. I use a non-stick pan witch requires less butter for frying. Make sure the pan is warm enough before starting to cook the pancakes, medium-high heat usually works the best.
Read also: Easy Chicken Gravy Recipe
How long does it take to make Swedish Pancakes Recipe?
Preparation time: 5 minutes
Cook time: 15 minutes to 25 minutes
Serving: 4 to 6
Yield: 12
Read also: Yerba Mate Recipe Cold
Swedish Pancakes Recipe with Toppings and Filling
Buttermilk syrup: Swedish pancakes cannot be made without some buttermilk syrup. It's delicious and easy to make and only takes a few minutes.
Fruits: Fruits can also be a great topping for Swedish pancakes. I love to add blackberries, strawberries, and blueberries.
Yogurt: I also add yogurt and whipped topping to the middle of the Swedish pancakes, making them super amazing.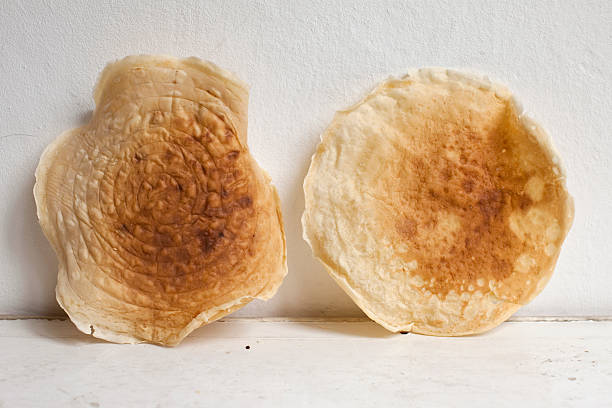 Filling combinations
They are so many options for filling combination, depends on if you want it savory or sweet.
Sweet:
Apples and cinnamon
Any jam with your favorite fruit
Apples, strawberries peaches, and kiwi
Blueberries and lemon
Strawberry and Nutella
Savory
Pulled pork or chicken with BBQ sauce
Avocado, tomatoes, mozzarella, and balsamic glaze
Sauteed steak, spinach, and mushrooms
Eggs, ham, and cheese
Chickpea, and portobello mushrooms
Read also: Easy Fudge Recipe Peanut Butter
Ingredients for Swedish Pancakes
1 cup of all-purpose flour
2 cups of milk
3 tablespoon unsaturated butter, plus additional for cooking
3 large eggs
1/4 teaspoon of kosher salt
1 tablespoon granulated sugar
For serving you need:
Lemon juice
whipped cream
fresh fruit or jam
maple syrup or yogurt
powdered sugar
Method of Preparation
To make Swedish pancakes follow the following procedures for your delicious Swedish pancakes.
Firstly melt 3 tablespoons of unsaturated butter and let cool slightly. Place 2 cups of milk, 1 cup of all-purpose flour, 1 tablespoon of granulated sugar, 1/4 teaspoon kosher salt, 3 large eggs, and the melted butter in a blender.
Blend them until smooth, like about 20 seconds, alternatively, whisk everything together in a bowl until thoroughly combined together.
Melt 1 teaspoon unsalted butter in a 10-inch nonstick pan over medium heat. Tilt the pan so the butter coats the bottom.
Pour in about 1/3 cup of the batter, immediately pick up the pan and swirl it to spread the batter into an even layer on the bottom of the pan.
Then cook until the pancake has browned slightly on the bottom, like about one to one and a half minutes, carefully slide a spatula underneath the pancake and flip it. Cook the second side briefly, just to set the batter, 15 to 30 seconds more.
Tilt the pan and loosen the pancake, then slide it onto a wire rack. Continue making the pancakes with the rest of the batter, adding more butter 1 teaspoon at a time, as needed, to keep them from sticking.
Stack the pancakes to keep them warm. To serve, roll each pancake up. You can serve the pancakes with toppings, as desired.
Note: Make sure you use real butter, not margarine. They can be made into larger cakes. However, the yield will be smaller if made into larger cakes.
How to store leftover Swedish Pancakes
Leftover Swedish pancakes can be store in an airtight container in the refrigerator for up to 1 week. To serve, microwave stacks of 3 pancakes on 5o percent power until heated through, 10 to 15 seconds.
How to serve Swedish Pancakes
Swedish pancakes taste best when served warm and fresh, you can keep them warm in an oven on low heat and you can either roll each pancake and place them side by side in a pan or stack them on the pan separating each pancake with parchment paper.
Conclusion
Swedish pancakes are deliciously sweet and easy to make. Swedish pancakes are thin, golden wonders filled with jam or fresh berries toppings with a dollop of whipped cream. Swedish pancakes aren't your typical pancakes.
They can be made into a sweet breakfast or dessert, or even a savory dinner idea. If you are looking for classic pancakes, Swedish pancakes are actually for you, try these buttermilk pancakes and you will enjoy it cause it's super delicious.